We are excited to share some positive numbers this month. We are well into summer and it looks like things are starting to turn around.
Although we are still facing new challenges everyday from the pandemic, it appears most dealerships have adopted safer practices when it comes to in-person transactions. As we take a look back at June, we are beginning to see some improvements since March.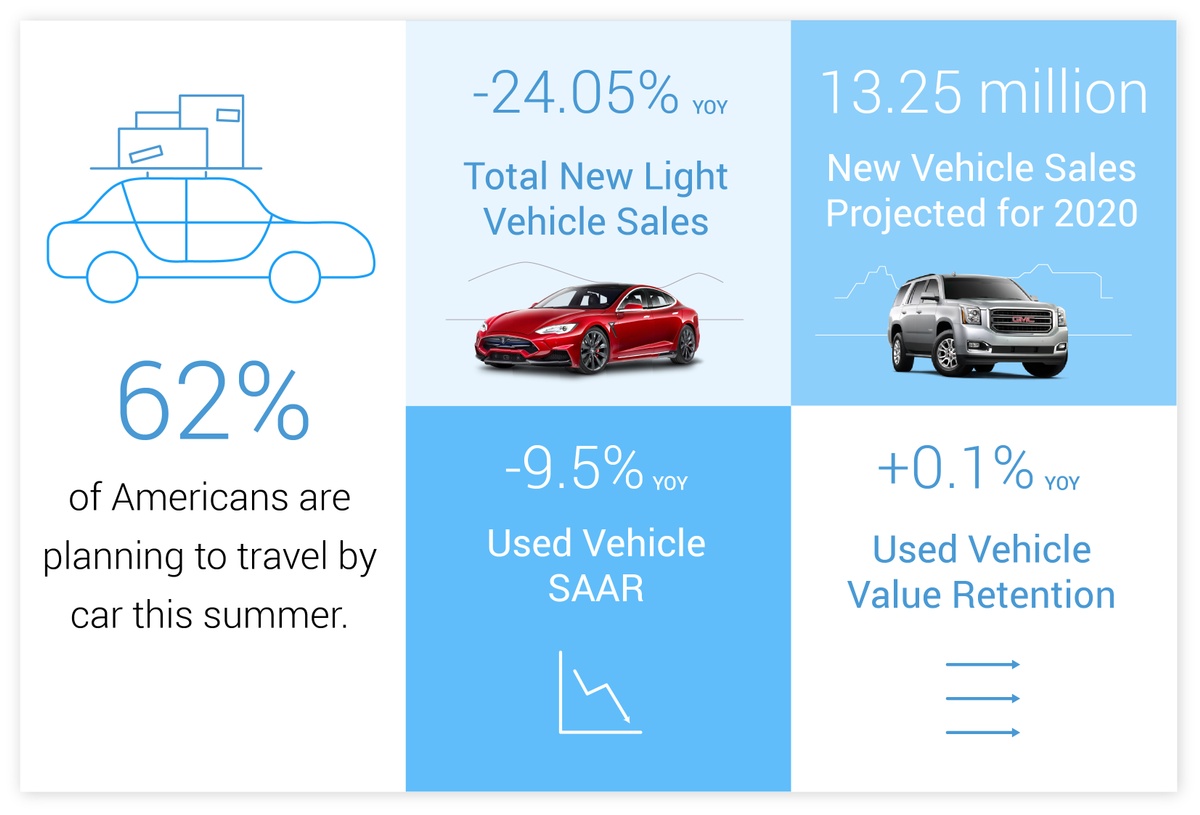 Total New Light Vehicle Sales
Over the last month, new car SAAR increased by 6.8% from May to 13 million units. In comparison to 2019, however, we remain in the negative. With last June's SAAR at 17 million units, there is a decrease of 24.05% year over year.
New vehicle production remains slow, but there have been some reports factories are starting to open up safely. According to an article in the New York Times, now that some parts of the country have reopened, people are beginning to purchase vehicles again. However, with recent spikes in a few states, it is unknown whether this will continue.
New Vehicle Sales Projection
Over the past few months we have not seen much change in this projection. NADA has reported the range between 13 million and 13.5 million.
A decline in new car production from previous months as well as the uncertainty surrounding COVID-19 and our economy, has made it difficult to predict what will happen in the coming months.
Used Vehicle Value Retention
We saw a positive upswing in June with a 0.1% increase year over year and, in comparison to May, a retention increase of 8.6%.
Black Book's data scientist Alex Yurchenko reported, "fueled by federal stimulus and a lack of new inventory, retail demand for used vehicles in June was strong." This jump in value retention has brought us back to even ground with last year's number, however, Yurchenko does not believe this will continue throughout the summer.
Used Vehicle SAAR
As with most of our numbers this month, we have seen a rebound since March. We are still down year over year, but as the months go on, we are seeing things level out.
Last month, Manheim reported used vehicle SAAR at 36 million. A decrease of 9.5% from 2019, but a 12.5% increase from May.
Summer Travel
A lot of us are stuck at home this summer. Some had plans to travel internationally or across the country, but with the threat of COVID-19 and many countries having closed their borders, air travel has become a less desirable option.
Instead of taking to the sky to travel, most people have started planning road trips. It was reported by Forbes that 62% of Americans are planning some sort of vacation by car this summer.
Although the spread of the virus has increased in some states, people are eager to leave their homes, which is why traveling by car seems to be the best option.